Box: April 2014
Just Wait a Minute!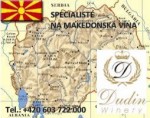 Apart from "Wait" becoming my motto for this months newsletter (sorry), I thought I would preempt some of the feedback that I expect to get from you all.
What is this doing here? Indeed Tarapaca is a very common, readily available wine in just about every supermarket. What you don't know is that the 2013 Sauvignon Blanc was voted BEST WHITE WINE by the members of the Sunday Times Wine Club – the largest wine club in the world. This got me curious, so I rand our friends at Vinicola. Evidently Chile didn't produce a bad S.B. in 2013, and this one was exceptional for the $. The supermarkets often have Tarapaca on sale – load when it is!
We also introduce a new supplier this time round from Macedonia. Honestly I have tried a lot of wines from the Balkans and was never too impressed until now. We have 2 Merlot from Dudin that in their price range are exceptional. The Barrique gold medal winner is a candidate for wine of the year. Really good.
Rounding out the box we have 3 wines from Piedmont. A "Sure thing" when it comes to Italian quality. I was so impressed with the value for money that Battaglio gave us with last months' Dolcetto, that we took 2 more wines from them. And rounding it all out, a Gavi from VPV never disappoints.
So look past the Tesco and the Chinese gold medal, and you will find some exceptional (and I mean EXCEPTIONAL) value in this months offer – you're going to be surprised.